INTERNATIONAL STUDENTS AFFAIRS DEPARTMENT, SAMBALPUR UNIVERSITY, INDIA
Foreign Students' Registry office is the single window for all the foreign nationals who wish to take admission in Sambalpur University in different courses.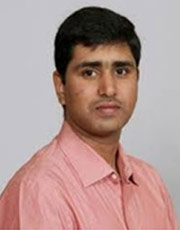 Dr. Arun Kumar Acharya
Director-International Affairs
The Sambalpur University was establishment in the year 1967. The University has 20 Departments. The University at Jyoti Vihar, Burla provides Post Graduate education through 20 Post Graduate Departments in 27 subjects. The University also offers Ph.D. in all these 27 subjects. It is also an affiliating University and having territorial jurisdiction covering 6 districts of Odisha namely Sambalpur, Sundargarh, Jharsuguda, Deogarh, Bargarh, Boudh and Athamallik Sub-Division of Angul District. The University is surrounded by Barapahad (mountains) and surrounded by lot of Green Environment.
The Sambalpur and Burla are famous for Hirakud Dam which is the largest dam of the world. The University is spread across 670 Acre of land having lush green campus. The University is well connected with Delhi through airport at Jharsuguda. It takes almost one and half hours to reach Jharsuguda from Delhi. From Jharsuguda the University is only 55 Kms away and it is almost one hour to reach the University from Jharsuguda. There is a good connectivity by road and train to reach Sambalpur University.
The University situated in the laps of mountain ranges and close to river Mahanadi which is 4 to 5 Kms from the Hirakud Dam. There are 11 Post Graduate hostels in the University campus, out of which 6 are ladies hostel and 5 are gents hostel. Every hostels has a common room with television, reading rooms having newspaper and magazine, guest room, first aid facility and computer rooms with internet facility. In Sambalpur University campus there are 02 Nationalized Banks namely State Bank of India and UCO Bank. There are 02 ATM counters working 24 hours in University campus. One post office is also inside the campus. Other facilities includes Health Centre, Gymnasium, Auditorium, Police Outpost, Community Centre, Faculty House, Modern Computerised Library etc. The University is accredited with NAAC 'A' grade and also in the ranking of NIRF framework.
The teaching and learning process with our Student Community is very user friendly where not only the University provides wonderful and interactive learning using Case Studies, Presentation, Project reports, other interactive methods etc. but also gives wonderful experiences about different Indian culture through celebrating Indian festivals in campus like Holi Milan, Diwali & Dusseherah, Indian folkdances, music festivals and other cultural events. The Sambalpur University tries to makes the stay of foreign students very comfortable by providing hostels, logistic support for transport, designated Independent Student Coordinator to solve their all types of problems on their arrival to the University campus.The officer in-charge for foreign students is Prof. Dr. Arun Kumar Acharya, Professor in Anthropology, Sambalpur University, mobile no. +916370172826 and e-mail id: acharya.iinso@suniv.ac.in.
The Sambalpur University is in close contact with the office of DG ICCR and in case of any further clarification either the Coordinator of Sambalpur University can be contacted or the DG ICCR office can be conducted.More